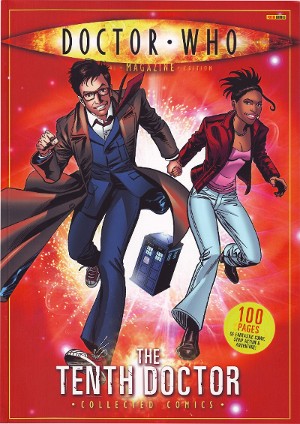 Sur le même principe que The Ninth Doctor Collected Comics, découvrez en français quelques-unes des aventures du 10e Docteur dans le bien nommé Tenth Doctor Collected Comics!
Il s'agit à nouveau d'un Doctor Who Magazine spécial, paru en Avril 2008, qui - à la différence de celui de Nine - ne reprend pas l'intégralité des Comics de Ten mais seulement ceux publiés entre les numéros 381 et 390.

Cette fois encore la traduction française n'est que bricolage maison, à défaut de mieux, donc soyez indulgents...

---
THE WOMAN WHO SOLD THE WORLD
Publié initialement dans les DWM n°381 à 384
Cliquez sur l'image pour découvrir cette aventure!
---
---


Les suivants vont arriver, doucement mais sûrement

* Une nouvelle fois, les scans d'origine ne sont pas de moi, et une nouvelle fois, pas moyen de localiser la source d'origine...


_________________