Kamelion
[Ood]





Offline



Joined: 25 Oct 2013
Posts: 8



Posted: Wed 5 Feb 2014 - 20:56

 

   Post subject: Saison 1: les deux editions

---

Bonjour, Je me permet de poser une question personnelle,mais j'ai commencé a acheter les dvd il n'y pas longtemps et je possède toutes les saisons en version rééditées, seulement , j'ai lu à propos de la saison 1 que l'ancienne édition était mieux niveaux cadrage , est ce que c'est vrai, l'image 4/3 étirée en 16:9 de la réédition est t-elle présente sur la premiere edition ?
_________________
Would you like a jelly baby ?
SteamMoose
[Master of the Vortex]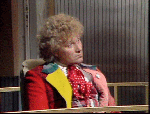 Offline



Joined: 31 Mar 2013
Posts: 1,949


Posted: Thu 6 Feb 2014 - 20:11

 

   Post subject: Saison 1: les deux editions

---

Je n'ai pas les DVD de la saison 1 donc je ne peux pas te répondre mais je trouve bizarre que la seconde édition ait un format moins intéressant que la première... mais j'en sais vraiment rien.
_________________


There are worlds out there where the sky's burning...