isaf
[Headless Monk]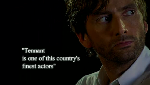 Offline



Joined: 03 Jun 2008
Posts: 458


Localisation: Suisse

Posted: Sun 3 Jan 2010 - 18:58

 

   Post subject: Audiences Episodes Spéciaux 2009

---

Les anglais mesurent les audiences mais aussi si les personnes ont aimé le programme. C'est un index un peu différent mais je crois que ca rentre dans ce topic.
Pour

The End of Time, part II

, l'index d'appréciation est de

89


C'est le plus haut index des 5 épisodes spéciaux. Seuls les 2 derniers épisodes de la saison 4 avaient dépassé ce score. La source explique que c'est un score incroyablement haut pour une émission qui a attiré tant de personnes.
L'index le plus élevé a été donné par les femmes agées de 35 à 55 ans, un public généralement pas très fan de la SF, ce qui montre bien l'impact incroyable de la série....et de David Tennant sur le public féminin
_________________


Un grand grand MERCI à Duam78!!!!